Businesses, institutions, and government entities are being overwhelmed with massive amounts of data which is lessening their ability to identify what is important and to act efficiently.
Dayton startup Techknowvate played critical role in Ohio's Covid-19 response
Problem
In the beginning stages of the COVID crisis, a major issue revolved around tracking critical data related to response efforts by Ohio agencies. A large part of these efforts involved asset tracking to effectively track, monitor and forecast supplies of personal protective equipment or PPE. Because of the time sensitivity connected to the spread of the illness a solution had to be identified immediately.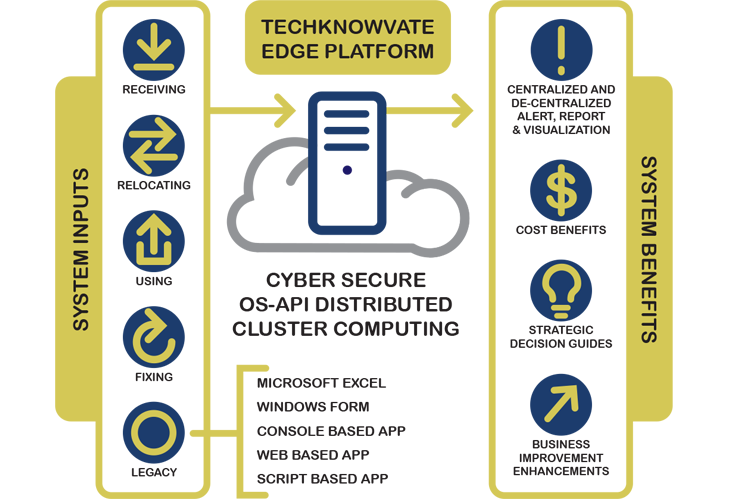 Solution
Instead of a solution provided by a massive software corporation with hundreds of employees, the solution was developed by a small, Dayton-based, start-up founded in 2019 called Techknowvate. Techknowvate is a software developed company that takes complex data and simplifies it into manageable information for better decision making. Using the latest in cloud, IoT, RFID, analytics, and artificial intelligence, the customized software has been used in a wide variety of applications. Utilizing the Techknowvate software enabled a complete and precise PPE supply chain knowledge and tracking that was vital to improving Ohio's COVID response, including a better understanding of the PPE demand forecast.
"We were honored to play a key role in converting this data into useful information for the betterment of all Ohioans," Techknowvate President Jeff Addison said. "This was our way of serving our state and our community."
Techknowvate was instrumental in tracking critical data related to Ohio's Coved-19 response and worked around the clock in conjunction with the Ohio Department of Administrative Services, the Ohio Department of Health, Department of Public Safety, Emergency Management Agency, JobsOhio, and the Dayton Development Coalition. Ohio Gov. Mike DeWine was so impressed with Techknowvates' ability to respond quickly and effectively he sent a personal letter thanking them for their efforts.
"For the governor to reach out and address the entire Techknowvate team in a personal note, thanking us for our efforts, that was something we were very appreciative of." Addison said, "We were very grateful to him to allow us to help the state. We just wanted to help."
To read more in the Dayton Business Journal: www.bizjournals.com/dayton/news/2020/08/19/techknowvate-covid19-response.html
For more information about Techknowvate email: contact@techknowvate.com